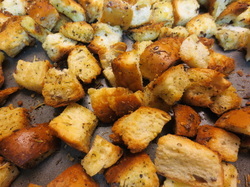 This is another sort-of-fiddly item that I make because I can't stand the thought of buying them pre-made.  They're really not all that hard. This is more of a procedure than a recipe. I've made them with Italian flavors since that fits with my usual homemade salad dressing, creamy Italian. Other spices could include cumin or smoked paprika. Fresh herbs wouldn't work as they'd tend to burn.
Make-Your-Own-Croutons
I buy a loaf of French multigrain bread from King Soopers and cut it into 1/2-inch cubes. Heat the oven to 400 degrees and spread the bread cubes out on a baking sheet. Blend 1/2 cup olive oil, 1 tsp. dried Italian seasoning, 1/2 tsp. salt, several generous grinds of pepper, and garlic as desired--I usually use a couple of cloves, put through a garlic press, or 1/4 tsp. granulated garlic. Drizzle this mixture over the bread cubes and bake for 10 minutes, stir around with a spatula, bake for another 5 minutes, and then see how dark they are. They should be golden brown and crisp. Let cool and then store in a plastic bag in the freezer. Take out as needed.